Ejna Mujezin and Ive Palope with the GSLS's sponsor, Alumnus Alan Elliott Merschen.
Webster Athens students Ejna Mujezin and Ive Palope, who serve as president and vice-president of the Student Government Association (SGA) of the Webster University Athens campus, respectively, recently participated in the Global Student Leadership Summit (GSLS) at the Webster Leiden campus.
The students were inspired by the Summit's influential speakers and mentors who not only coached them to give powerful presentations and identify their leadership style, but also motivated them to achieve their goals. They also met eager and passionate student leaders from other Webster campuses including Webster Groves, United States; Accra, Ghana; Geneva, Switzerland; Leiden, the Netherlands; Tashkent, Uzbekistan; Tbilisi, Georgia; and Vienna, Austria. By developing relationships with peers from throughout Webster's global network, GSLS participants gain a better understanding of the impact student involvement has on students and Webster University worldwide.
Mujezin and Palope affirmed this upon their return to Athens, saying, "We were empowered by the sense of community, and we found common goals and solutions to challenges facing our campuses as we exchanged ideas and best practices for positive change."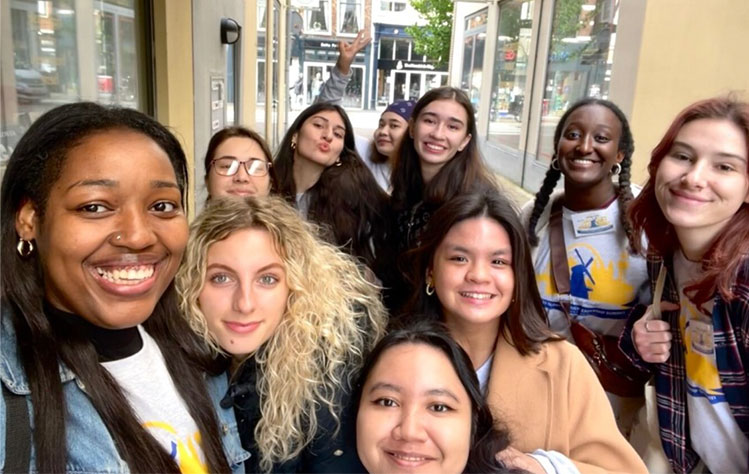 Webster students from around the world participating in the GSL Summit.
"It was a unique opportunity to gain exposure to diverse global perspectives, broaden our worldviews, cultivate empathy, and foster a greater understanding of global inter-connectedness," said Mujezin. "Each student was heard and able to contribute to the meaningful and innovative discussions that took place, gaining recognition not only from other students present but also from the mentors, faculty, and staff that we all look up to.
I believe this has cultivated personal growth, knowledge acquisition, and the development of a global network," Mujezin continued. "The lessons we have learned, the connections we have made, and the inspiration we have gained from such a remarkable event had a lasting impact on me. I believe that it has helped me gain the skills which I, along with the vice president, need to create positive change within Webster Athens and beyond."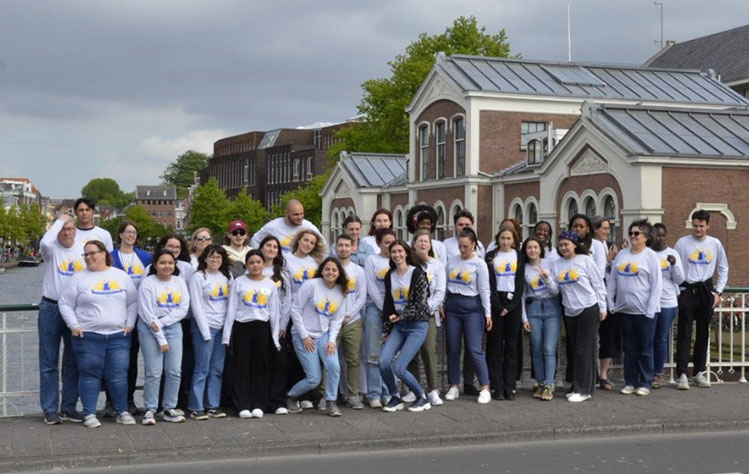 Webster Students outside of the Webster Leiden Campus.
Palope pointed out that the GSLS also helped them to understand the importance of being a "Global Citizen," which was also emphasized by Chancellor Beth Stroble during her speech at the 40th Anniversary of Webster Leiden Academic Conference.
"Not only did we learn from one another, but we were able to relate and inspire each other," said Palope. "The SGA aims to increase student involvement at Webster Athens to become a global citizen. Students ought to cultivate a mindset and a behavior that promotes global awareness and intercultural understanding. This starts when students are able to experience high-quality and meaningful student life," Palope said.
Student Government Association (SGA) President and Vice – President of the Webster Athens Campus presenting their plan for increasing student involvement at the Athens Campus.
The GSLS partners with the Gleich Honors College to provide a unique opportunity for Webster University student leaders to gain knowledge, skills and create positive change in a global environment.
The Summit speakers and mentors included Sinead Hewson, who enhanced students' intercultural competence; Jonathan Talbott, a TEDx speaker/ TEDx coach/ Communications advisor who coached them on giving intriguing presentations, and alumnus Alan Elliott Merschen, who sponsored the Summit and helped students to actualize their plans.
"These people were beyond inspiring and motivating for us student leaders, encouraging us to think critically and make a positive impact in our communities," Mujezin said.